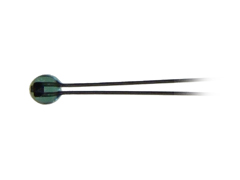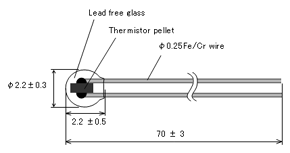 This is the first glass coated thermistor which comply with RoHS/ELV in the world.
Possible to use up to 400 deg.C radial lead type Thermistor element.
Ohizumi developed the new pellet which stability is very good at high temperature.
The lead wire is made with Fe/Cr alloy. It is not easy to oxidize in the atmosphere of the high temperature,and easy to connect to stainless steel or othr refractory alloy with the welding method.
The melting point of glass is very high. Then the isolation at high temperature is good.

Sensor for temperature control and measure upto 400 deg.c
All apprication which is requested RoHS and ELV and etc. by the customers.